#16 A crow, a raven, and a Brazilian [S2E10]
#16 A crow, a raven, and a Brazilian [S2E10]

"I'm on the fence that those guys blew right through."
Today we review Beyond Belief: Fact or Fiction season 2, episode 10. Chris thinks Jesse sounds like Omac from The Legend Of The Hidden Temple. Chris decides to go noteless for this episode. And we have our second themed episode – Animals!
Story 1: The Motorcycle–after a man finds an old motorcycle in a barn, his horse starts acting strange.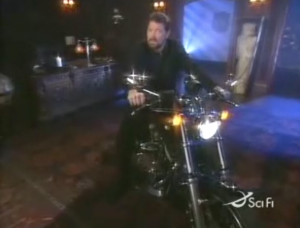 Story 2: Blind Man's Dog—a blind man discovers his seeing eye dog can sense when people will die, but some people don't see this as a gift.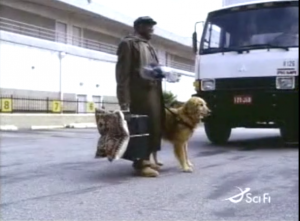 The group points out an awful special effect, looks like a gelatinous '80s version of the The Matrix's bullet time effect.
Kyle thinks animals have extra mysterious senses. Jesse points out that cats will often lay on older people before they pass away… but realistically likely because the cats are attracted to the heat that dying people people give off.
Chris thinks the most unrealistic part of this story is how people always die exactly one hour after the dog howls.
Jesse points out the idea of the confirmation bias: how many times did the dog howl and no one died? People tend to remember the hits and forget the misses. 
Story 3: Deer Hunters—when two hunters break into a Native American reservation, they come across a mysterious deer.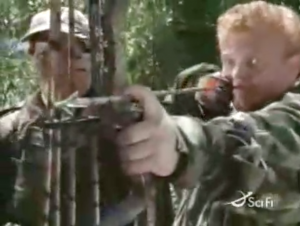 Chris points out that they use the term Indian and not native American in this episode.
Tiffany is conflicted by the presence of the cop. Could it be true then? Jesse thinks that makes it even less believable since a cop is less likely to witness such a unrealistic scenario.
Chris isn't sure if this is fact or fiction: "I'm on the fence that those guys belew right through."
Story 4: Tribal Curse–A college student studying native tribe, interferes with one of the most sacred funeral rituals.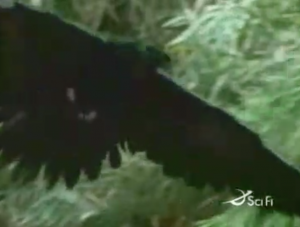 Chris thinks the tribe murdered the student.
Chris tries to apply the Ghostly Rules, but nothing adds up. A ghost cannot go into a crow's body and kill a human.
The group points out the amazingly epic crow vs. man chase scene.
Jesse and Kyle think the crow wasn't possessed, but instead simply went crazy and killed the kid.
It's revealed that crows are our bigger listenership.
The group points out the unnaturally loud waterfall.
Story 5: The Card Game–a poker cheater is put to the test when the hangman comes to town.
No one understands the M. Night Shyamalan twist. Do they just dress up like cowboys on Tuesdays? Kyle thought it would have made more sense if they were on a movie set.
Jesse is surprised that this cheater never loses a hand. Tiffany points out that he plays only tourists, so he can continue to cheat without getting caught.
Chris tries to use the Ghostly Rules, but this one is just doesn't make sense.
Jesse points out the ghost energy meter would have to be so full in order for a ghost to play a game of poker. Not buying it.
Advertisement: this week's episode is brought to you by Gary's Animal Rental.
The story results are revealed.
Chris tries desperately to hold onto his 60% average… which he doesn't. Maybe he should take notes next time? Tiff got 100% percent, however!
To find out which stories are fact and which are fiction… you must listen to the podcast, or check out the full episode below, or on Amazon Prime!